There are so many things that I put on my shopping list. Usually it comes at a time I'm ripping through the house and purging or cleaning and setting things straight that I realize: "Ha! THIS…would make my life easier" and so life goes on, and I whirlwind about, or hit the fashion pages and see a new inspiration or idea and think "HA! (I use HA a lot?) I need that in my closet!"
So as I continue through the day I start to realize how many things I like, and what makes sense for me to buy and not buy and what is a luxury vs. is something I should treat myself to. A few years back, I made the promise to use what I have more and shop less. To be honest, it's a regime that I've really stuck to, and love the idea that I have less stuff to deal with when cleaning does come around.
Even now I've been going through this great phase of making sure that I don't overbuy food, review the pantry and freezer, and "Top Chef" myself into challenges at using what I have before I tackle the billionth recipe I've cut out from Bon Appetit or Saveur to try. I even told myself….seriously, that I would start cooking my home cooking again, but no, the new recipes abound – and I must attempt them…all. *insert villainous laugh here*
That said, I thought I would share with you folks a few things that have caught my eye.
Recently in Fredericksburg, I saw these amazing scarves at "Red", a store that I want to give my entire bank account to. I think I'm going to attempt to make them using yarn that will, let's admit it, never become the afghan of my silly pinterest dreams.
I have been looking for a mobile for my office for some time now. The one I had originally in my head was vintage Ikea, circa late 1990s. Obviously ebay has failed me, but in the meantime, I'd like to see if I could track down this little whimsical bird, I think he'll make me sing with happiness while I wile away the hours.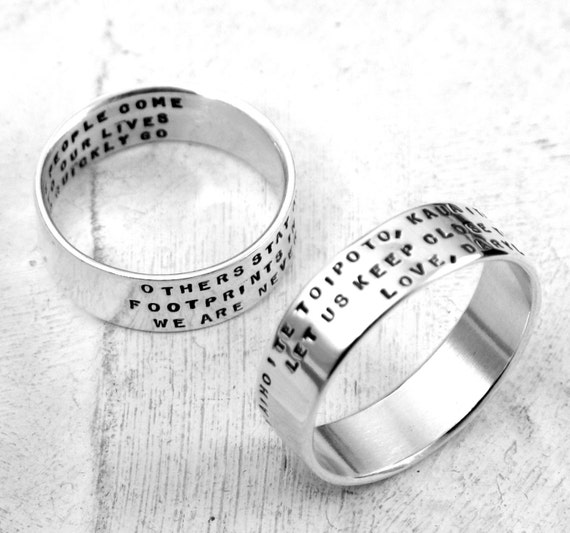 I own two of these rings with different quotes. For a girl who doesn't wear jewelry, that's saying a ton. I love reading quotes and this piece of art is just perfect for me, it's a constant reminder of the journey that I'm on, it's neutral and attractive, and the letters are small enough that you're not making a huge bold statement, but rather a quiet whisper – to those who dare to get close enough – I'm happy to share.
Lately, I've really forgotten how much the little happinesses of life matter. Partly due to the idea that I'm trying to minimalize my shopping, but every now and again, you just have to treat yourself. These soaps and lotions from Cost Plus World Market smell wonderful and are rich. They feel like expensive versions, but keep me at a budget that I know I can handle.
In sixth grade I sat behind a girl in homeroom. We found out later that we'd share orchestra, and doodling in a notebook and laughing about the latest middle school gossip. I knew how talented she was back then, it was obvious given my envy of her endless talents. Just like most people, we went on to high school and life and lost touch. So imagine my surprise, but never disbelief, when she became Master Chef. Please go and buy her new cookbook – she's just an unbelievable force.
It's sold out. My heart cries. Ever since the very first preview of the Great Gatsby, I needed this dress. Throw in the fact that I have a 1920's themed party coming up and surely you know the desperation I'm in. Fingers crossed people, I want to find it.
It's been all about lack of sleep lately with Penny. Of course, I have to get up mid-sleep
and make sure I don't wake up to…well, a yellow pool. So right now my z's are of the essence to me. I keep telling myself now that summer is
here I should be slipping into the quiet comfort of some new bedsheets.
And finally, despite it not.being.here.yet. I'm so ready to see what these beauties look like up close. Ikea always has that cool mod aesthetic, and while quality is a little up and down for me, these dining chairs look like winners. A little mid century, a little "let's have a nice glass of scotch", I'm so ready for their arrival.