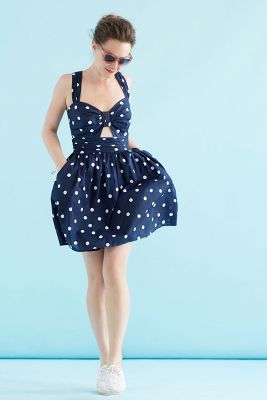 Anthropologie always turns out the cutest little dresses. This gem just screamed Little Miss Firecracker. I love the modest cut out in the front and let's admit it, polka dots will never go out of style. I can see me on the James Coney Island boardwalk swing dancing in this, whether it's 1943 or 2013. Throw it on with keds as shown, or with a nice little wedge shoe, and you've got summer tan worthy fashion written all over you.
Please tell me that you've eaten Burrata cheese. Just lie to me if you haven't and secretly run out of wherever you are right now and make SURE that you get some pronto. Who doesn't want layers of thick cream wrapped in cheese? It's like a gift of dairy, wrapped up in…more dairy. It goes perfectly with most Italian meals. Recently I had it served with perfectly toasted bruschetta toasts and grilled peaches and perfectly PERFECT (never gonna find them that good in the store) cherry tomatoes and basil. I highly suggest trying to re-enact that starter…and make it like a whole meal.
Now that we are full swing into summer, I can't help but finally succumbing to wanting my own canning pot and gear. I've been making these refrigerator bread & butter pickles and have already been making these garlickly spears for awhile now, but I think it's time to up my game to at least a chow chow or relish…and perhaps even tackle a pepper jelly.
I just downloaded this lovely page turner on my ipad. It's the sequal to one of my favorite books-made-into-a-movie of all time, the Devil Wears Prada. "That's All."
I recently started to hold myself to eating breakfast. Ever the dieter, I thought skipping breakfast really helped me take out a few hundred calories from my daily routine. Except now I'm realizing how much energy I have when I have breakfast, and how much more alert and well I feel. These sandwiches pack a ton of flavor (do not be put off by "mozzerella style cheese product" that it says on the box, I think it's almost like an alfredo sauce, and I'm a spinach dip lover – so these are perfect.
This BHLDN Wedding dress has my heart soaring. No I'm not getting married, but it's Gatsby feeling with a lovely bit of simplicity and sophistication make me want to dye it a beautiful jewel tone and step out to a gala….and SOON. They always have the best era wedding dresses, I feel like going to their shop is a trip down into the basement of the Louvre – where all the treasures are truly hidden. BHLDN truly hasn't gotten enough spotlight the way that it should. It's an amazing place if you haven't been, sure, you have to mortgage the house – but we only live…once?
Mr. Bubble is my man. Sometimes it's the cheap and simple thrills of life that keep our day to day delightful. Mr. Bubble reminds me of being a kid, laughing and still gives me that bubble bath that I can have my very adult glass of wine and wash off the day's dirt. Amen for this man who always comes through.
When I cooked chicken sage scallopine for my Dad's birthday this past month, I used a high sided pan that my mom had. Not having one of these in my cookware arsenal before really made me want one. No sauce splatters (perhaps great for deep frying too!) and the lovely nonstick coating made my clean up a breeze. I must go scour the TJ Maxx for a beauty like this.
Since it's summer and cooking at a hot oven isn't always on my choice activity list…I was considering a new
lovely cheese board. This one from Etsy had a lovely natural organic shape to it. Not only can I see my standard charcuterie looking ever so more chic, but I can see fruits, or a salmon and dill spread here that would make me feel like a Tuesday at home, could be considered fine dining.